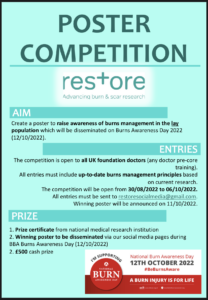 This year Restore Research is running a national poster competition for foundation doctors (pre core/IMT training) for National Burns Awareness Day 2022. The objective of the competition is for a poster to be created that will be disseminated across social media and our website to help educate the lay population on burns care and safety.
The competition is open to all UK foundation doctors (pre core/ IMT training). We hope that this competition serves as a great opportunity for applicants to enhance their portfolios for further training. The winner will receive a £500 cash prize to put towards a course(s); conference(s) or such other use that will contribute towards the foundation doctor's career development. They will also receive a prize certificate from a national medical research institution.
The competition will be open from 30th August 2022 to 6th October 2022.
All entries must be sent to restoresocialmedia@gmail.com and include an authorship form.
Winning poster will be announced on 11th October 2022.
For further details, please read our terms and conditions document below.
Restore Poster competition 2022 Terms and Conditions